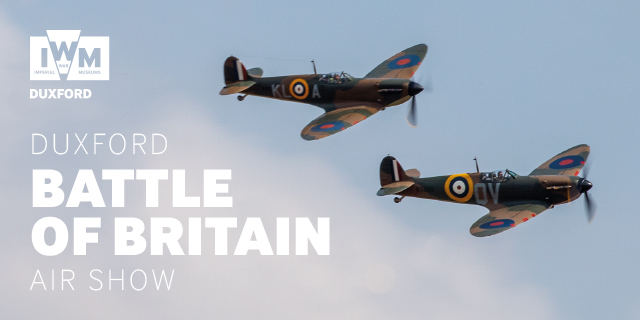 Step back in time for an event to remember at the Duxford Battle of Britain Air Show.
This September, immerse yourself in Summer 1940, when the Spitfire ruled the skies and brought hope to the British Isles, at the airfield that made history. Presented by IWM Duxford, this former RAF site played a central role in some of the most dramatic days in 20th century history - serving as a base for many of the Spitfire and Hurricane pilots during the Second World War.
In a tribute to the 'Few', experience a weekend packed full of commemoration, action and entertainment.
Hear and feel the roar of the Spitfire engines tearing through the skies above your head in our spine-tingling mass finale.
• Witness spectacular historic aircraft flying in formation, in a fabulous air display.
• Dust off your tea dresses, shake out your tweed jackets and show-off your 1940s outfits.
• Come ready to enjoy a spectacular historic day-out filled with vintage fashion, music and dance.
• Get close to the aircraft before they take to the skies on the Flightline Experience, included in your 2021 ticket price.
• Experience the ★★★★★ 'Spine-tinging' (The Telegraph) Battle of Britain exhibitions and discover the story of two nations united through war in the award-winning American Air Museum.
• Walk around, inside and under hundreds of large aircraft, vehicles, tanks and more and discover stories about the people whose lives they have affected.
Step back in time with us and experience our finest hour. Duxford Battle of Britain Air Show - Saturday 18 and Sunday 19 September 2021.
Tickets on sale now. Limited availability, tickets will sell fast. Book today.